Making life safer offshore
Dropped objects are the single most common cause of serious accidents on offshore installations. But Norwegian engineer ­Johan Kolstø wanted to change that. He is the man responsible for the Statoil Hydro Health Safety & Environment (HSE) project that set the industry standard for dropped object management on oil rigs, saving lives, time and money.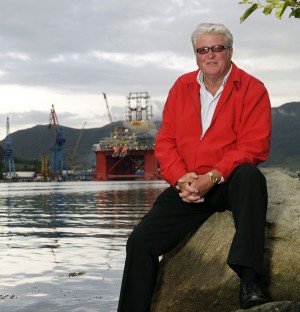 Please describe the HSE project for which you were responsible.
"Our objective was to minimise the frequency of dropped objects on offshore installations. There were no set guidelines at the time, so we examined measures for securing loose items and developed a dropped object inspection system. Between 2004 and 2006 we halved the frequency of falling objects at Statoil Hydro and our best practice manual went on to form the basis for the industry standard in dropped object management, recommended by the Norwegian Oil Industry Association."

Why are dropped objects a safety risk?
"More than 60 per cent of the most serious incidents on offshore installations are caused by falling objects. You have to consider the fall-energy factor, like what actually happens when 1 kg drops 30 metres…"

Can you give an example?
"One incident I recall was when a small piece of tubing, weighing about 30 kg, had been left un­secured on an upper deck. Work was under way one deck down, but there was a small hole in the upper deck. The tubing was rolling back and forth on the upper deck – it fell through the hole, hit a pipe and changed direction. It struck a man on the neck and he was killed instantly."
How could this incident have been avoided?
"It is crucial to secure all loose items! In our best practice ­manual, we expressly recommend Nord-Lock's bolt securing system for connections that are exposed to vibration, such as gratings, loudspeakers, cable trays, ladders and guide rails, but it has an almost unlimited range of applications. The technical system is excellent – it's extremely reliable and easy to inspect. In fact, I have never heard of a Nord-Lock system that came loose."
What is special about Nord-Lock's products?
"They are unique because of the washers. The technical design means the tension is always maintained and it simply can't come loose, regardless of the movement or vibration to which it is exposed."
What is your advice to people working with offshore safety?
"Some might say safety is expensive – but try an accident! ­Usually ­accidents do not happen but, if items are not properly secured and inspected, something will eventually go wrong. The repercussions can be terrible, in terms of both accidents and breakages, which cost money and delay the work. The challenge for me and my colleagues is constantly to educate people – it's all about a systematic approach to identifying and controlling risk. If people work according to our best practice ­recommendations and make sure loose items are properly secured, there will be no need for accidents of this kind to take place."
FACTS: JOHAN KOLSTØ
Age: 62
Role: A consultant with Dropped Object Management Group, developing training and inspection processes within dropped object management for organisations in oil-related industries.